02.03.1958: Belgium v Germany 0-2 (in Brussels) (F)
Referee: Leafe (England), attendance: 65,000
The prestigious defeat of the Hungarians was quite deserved and a great end to a year that saw an upswing of the fortunes of Herberger's team after the two dull previous years. The German midfield excelled in fluid combination play with Horst Szymaniak being the decisive influence. The first game of the year was staged in Brussels against Belgium. The original roster had featured Seeler, Nuber and Peters, but these three were relegated to the junior team's roster and in their place Waldner and after a long break Fritz Walter were called up. This was big news but eventually Walter stayed on the bench as Herberger felt that the deep muddy pitch in Brussels wouldn't offer the best conditions to stage Walter's return to the national team. 
German roster:
GK: Herkenrath, Sawitzki
DF: Erhardt, Wewers, Juskowiak, Stollenwerk
HB: Eckel, Szymaniak
FW: Alfred Schmidt, Kelbassa, Fritz Walter, Waldner, Soya, Klodt, Hans Schäfer
Belgium: 1 Leysen – 2 Diricx, 5 Carré, 3 Thellin – 4 Mees, 6 Mathonet – 8 Vliers, 10 Vandenberg (35. M.Lippens) – 7 Jurion, 9 Coppens, 11 Orlans
Germany: 1 Herkenrath – 2 Erhardt, 5 Wewers, 3 Juskowiak – 4 Eckel, 6 Szymaniak – 8 A.Schmidt, 10 Schäfer (c) – 7 Waldner, 9 Kelbassa, 11 Klodt
Scorers: 0-1 Schäfer (25.), 0-2 A.Schmidt (60.)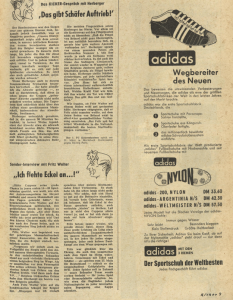 19.03.1958: Germany v Spain 2-0 (in Frankfurt) (F)
Referee: Ellis (England), attendance: 81,000
The positive after the game against Belgium was the stable defensive unit at the back (it was the third game in a row without conceding). Worrying was the lack of offensive prowess, although Germany won in Brussels, the Belgians would have deserved a draw. Herberger knew that in Helmut Rahn he had a forward of potential world class calibre but in the preceding months Rahn was not in good shape and Herberger relied on a variety of other, ultimately lesser, wingers like Waldner, Klodt, Steffen, Peters and Cieslarczyk. This triggered Rahn's ambition. By the time the game against Spain was due, Rahn was in much better shape, yet Herberger still did not call him up. The roster for the Spain game featured three newcomers in Späth, Hans Sturm and Soya, of them only Sturm would become an international player. Ever since the days of Ottmar Walter were over, Herberger had been searching for a proper centre forward. The very young and promising Uwe Seeler was still struggling at that level and Kelbassa, who looked okay during most of 1957, was ultimately not the right player in Herberger's mind. Thus against Spain, Herberger tried to play without a classic centre forward, instead he gave Fritz Walter the no. 9 shirt but wanted to see him operate in the "Hidegkuti" role as a withdrawn centre forward. In defense, Wewers was replaced by Erhardt in the stopper role and Stollenwerk, originally an offensive player, was given the right back job of Erhardt. 
German roster:
GK: Herkenrath, Sawitzki, Tilkowski
DF: Erhardt, Juskowiak, Stollenwerk, Späth, Wewers
HB: Eckel, Hans Sturm, Szymaniak
FW: Klodt, Waldner, Fritz Walter, Alfred Schmidt, Soya, Kelbassa, Hans Schäfer, Cieslarczyk 
Germany: 1 Herkenrath – 2 Stollenwerk, 5 Erhardt, 3 Juskowiak – 4 Eckel, 6 Szymaniak – 8 A.Schmidt, 10 Schäfer (c) – 7 Klodt, 9 F.Walter, 11 Cieslarczyk
Spain: 1 Carmelo – 2 Quincoces, 5 Garay, 3 Callejo – 4 Santisteban, 6 Gensana – 8 Kubala, 10 Suarez – 7 Miguel, 9 Di Stéfano, 11 Collar
Scorers: 1-0 Klodt (45.), 2-0 Cieslarczyk (47.)
02.04.1958: Czechoslovakia v Germany 3-2 (in Prague) (F)
Referee: Latyshev (Soviet Union), attendance: 50,000
The victory against Spain was a deserved one, if only for the second half in which Germany played convincingly, combining through balls, swiftly threaded passes and 1-2s with Walter, Szymaniak, Schmidt and Eckel being the main protagonists. The new defensive formation also proved to be a solid one. Erhardt particularly had an impressive game. For the game against the Czechoslovakians, Herberger still did not rely on Helmut Rahn, who was in great form again, but he called up the 19-year-old Karl-Heinz Schnellinger, one of the greatest talents around at the time. 
German roster:
GK: Sawitzki, Tilkowski
DF: Stollenwerk, Juskowiak, Späth, Erhardt, Alfred Schmidt
HB: Eckel, Schnellinger
FW: Soya, Fritz Walter, Hans Schäfer, Cieslarczyk, Kelbassa, Waldner, Steffen
Czechoslovakia: 1 Stacho – 2 Hertl, 5 Cadek, 3 Novak – 4 Pluskal, 6 Masopust – 8 Moravcik, 10 Molnar – 7 Hovorka, 9 Dvorak, 11 Zikan
Germany: 1 Sawitzki – 2 Erhardt, 5 A.Schmidt (63. Waldner), 3 Juskowiak – 4 Eckel, 6 Schnellinger – 8 H.Sturm, 10 Schäfer (c) – 7 Steffen, 9 F.Walter, 11 Cieslarczyk
Scorers: 1-0 Zikan (9.), 1-1 Cieslarczyk (41.), 1-2 Stacho (48., o.g.), 2-2 Erhardt (69., o.g.), 3-2 Molnar (80.)
1958 World Cup roster
01 Friedrich Herkenrath (RW Essen), 29 years, 15 A, Goalkeeper
02 Herbert Erhardt (SpVgg Fürth), 27 years, 17 A, Centre Half/Half Back
03 Erich Juskowiak (Fortuna Düsseldorf), 31 years, 20 A, Full Back
04 Horst Eckel (1. FC Kaiserslautern), 26 years, 27 A, Half Back
05 Heinz Wewers (RW Essen), 30 years, 11 A, Centre Half
06 Horst Szymaniak (Wuppertal SV), 23 years, 10 A, Half Back
07 Georg Stollenwerk (1. FC Köln), 27 years, 8 A, Full Back
08 Helmut Rahn (RW Essen), 28 years, 22 A, Winger
09 Friedrich Walter (1. FC Kaiserslautern), 37 years, 56 A, Inside Forward
10 Alfred Schmidt (Borussia Dortmund), 22 years, 7 A, Inside Forward
11 Hans Schäfer (1. FC Köln), 30 years, 28 A, Winger/Inside Forward
12 Uwe Seeler (Hamburger SV), 21 years, 4 A, Centre Forward 
13 Bernhard Klodt (FC Schalke 04), 31 years, 15 A, Winger
14 Hans Cieslarczyk (SV Sodingen), 21 years, 3 A, Winger
15 Alfred Kelbassa (Borussia Dortmund), 33 years, 5 A, Centre Forward
16 Hans Sturm (1. FC Köln), 22 years, 1 A, Half Back
17 Karl-Heinz Schnellinger (1. FC Köln), 19 years, 1 A, Full Back
18 Rudolf Hoffmann (VfB Stuttgart), 23 years, 1 A, Centre Half*
19 Wolfgang Peters (Borussia Dortmund), 29 years, 1 A, Winger*
20 Hermann Nuber (Kickers Offenbach), 22 years, Half Back*
21 Günter Sawitzki (VfB Stuttgart), 25 years, 4 A, Goalkeeper*
22 Heinrich Kwiatkowski (Borussia Dortmund), 31 years, 3 A, Goalkeeper
* ready on call
08.06.1958: Germany v Argentina 3-1 (in Malmö) (WC)
Referee: Leafe (England), attendance: 31,000
Germany: 1 Herkenrath – 7 Stollenwerk, 2 Erhardt, 3 Juskowiak – 4 Eckel, 6 Szymaniak – 9 F.Walter, 10 A.Schmidt – 8 Rahn, 12 Seeler, 11 Schäfer (c)
Argentina: 1 Carrizo – 2 Dellacha, 5 Rossi, 3 Vairo – 4 Lombardo, 6 Veracka – 8 Prado, 10 Rojas – 7 Corbatta, 9 Menendez, 22 Cruz
Scorers: 0-1 Corbatta (3.), 1-1 Rahn (32.), 2-1 Seeler (42.), 3-1 Rahn (79.) 

11.06.1958: Germany v Czechoslovakia 2-2 (in Hälsingborg) (WC)
Referee: Ellis (England), attendance: 25,000
Germany: 1 Herkenrath – 7 Stollenwerk, 2 Erhardt, 3 Juskowiak – 17 Schnellinger, 6 Szymaniak – 9 F.Walter, 11 Schäfer (c) – 8 Rahn, 12 Seeler, 13 Klodt
Czechoslovakia: 19 Dolejsi – 2 Mraz, 16 Popluhar, 4 Novak – 6 Pluskal, 5 Masopust – 8 M.Dvorak, 14 Feureisl – 13 Hovorka, 9 Molnar, 12 Zikan
Scorers: 0-1 M.Dvorak (25., pen.), 0-2 Hovorka (42.), 1-2 Schäfer (59.), 2-2 Rahn (72.)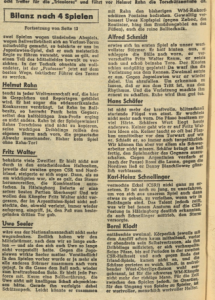 15.06.1958: Germany v Northern Ireland 2-2 (in Malmö) (WC)
Referee: Campos (Portugal), attendance: 28,000
Germany: 1 Herkenrath – 7 Stollenwerk, 2 Erhardt, 3 Juskowiak – 4 Eckel, 6 Szymaniak – 9 F.Walter, 11 Schäfer (c) – 8 Rahn, 12 Seeler, 13 Klodt
Northern Ireland: 1 Gregg – 5 Keith, 2 Cunningham, 3 McMichael – 4 D.Blanchflower, 6 Peacock – 8 Cush, 10 McIlroy – 7 Bingham, 13 Casey, 11 McParland
Scorers: 0-1 McParland (19.), 1-1 Rahn (21.), 1-2 McParland (60.), 2-2 Seeler (78.)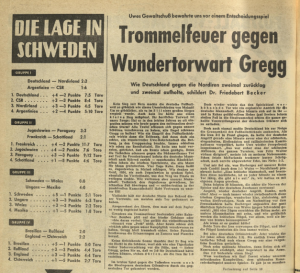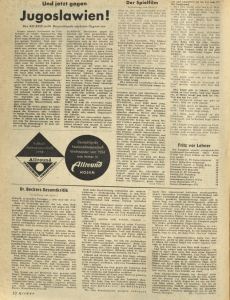 19.06.1958: Germany v Yugoslavia 1-0 (in Malmö) (WC)
Referee: Wyssling (Sweden), attendance: 26,000
Germany: 1 Herkenrath – 7 Stollenwerk, 2 Erhardt, 3 Juskowiak – 4 Eckel, 6 Szymaniak – 9 F.Walter, 10 A.Schmidt – 8 Rahn, 12 Seeler, 11 Schäfer (c)
Yugoslavia: 2 Krivokuca – 3 Sijakovic, 6 Zebec, 4 Crnkovic – 9 Boskov, 8 D.Kristic – 19 Ognjanovic, 13 Veselinovic – 12 Petakovic, 14 Milutinovic, 17 Rajkov
Scorer: 1-0 Rahn (12.)
24.06.1958: Sweden v Germany 3-1 (in Gothenborg) (WC)
Referee: Zsolt (Hungary), attendance: 50,000
Sweden: 1 Svensson – 2 Bergmark, 14 Gustavsson, 3 Axbom – 15 Börjesson, 6 Parling – 8 Gren, 4 Liedholm – 7 Hamrin, 9 Simonsson, 11 Skoglund
Germany: 1 Herkenrath – 7 Stollenwerk, 2 Erhardt, 3 Juskowiak – 4 Eckel, 6 Szymaniak – 9 F.Walter, 11 Schäfer (c) – 8 Rahn, 12 Seeler, 14 Cieslarczyk
Scorers: 0-1 Schäfer (24.), 1-1 Skoglund (33.), 2-1 Gren (81.), 3-1 Hamrin (87.)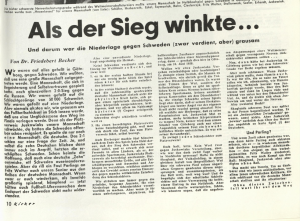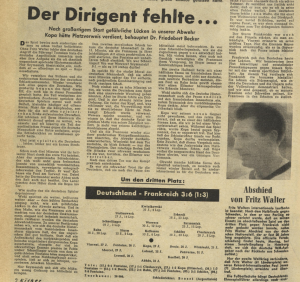 28.06.1958: Germany v France 3-6 (in Gothenburg) (WC)
Referee: Brozzi (Argentina), attendance: 20,000, sent-off: Juskowiak (59.)
Germany: 22 Kwiatkowski – 7 Stollenwerk, 5 Wewers, 2 Erhardt – 17 Schnellinger, 6 Szymaniak – 16 H.Sturm, 11 Schäfer (c) – 8 Rahn, 15 Kelbassa, 14 Cieslarczyk
France: 1 Abbes – 4 Kaelbel, 11 Lafont, 5 Lerond – 13 Penverne, 12 Marcel – 16 Douis, 18 Kopa – 22 Wisnieski, 17 Fontaine, 21 Vincent
Scorers: 0-1 Fontaine (15.), 1-1 Cieslarczyk (17.), 1-2 Kopa (27., pen.), 1-3 Fontaine (36.), 1-4 Douis (51.), 2-4 Rahn (53.), 2-5 Fontaine (77.), 3-5 Schäfer (63.), 3-6 Fontaine (89.)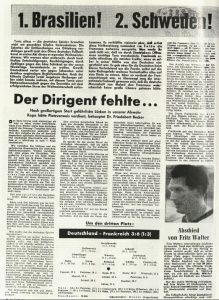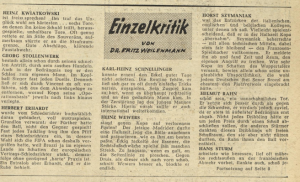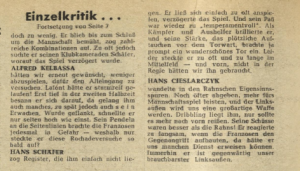 24.09.1958: Denmark v Germany 1-1 (in Copenhagen) (F)
Referee: Fencl (Czechoslovakia), attendance: 45,000
German roster:
GK: Herkenrath, Klose
DF: Stollenwerk, Juskowiak, Jäger
HB: Szymaniak, Erhardt, Kördel
FW: Kraus, Haller, Seeler, Alfred Schmidt, Rahn, Geiger, Cieslarczyk
Denmark: 1 From – 2 E.Larsen, 5 H.Nielsen, 3 V.Nielsen – 4 B.Hansen, 6 Lohse – 8 Machon, 10 J.Danielsen – 7 Pedersen, 9 Enoksen, 11 J.Sörensen
Germany: 1 Herkenrath – 2 Stollenwerk, 5 Jäger, 3 Juskowiak – 4 Erhardt, 6 Szymaniak – 8 Haller (80. Cieslarczyk), 10 A.Schmidt – 7 Kraus, 9 Seeler, 11 Rahn (c) 
Scorers: 0-1 Rahn (32.), 1-1 Enoksen (60.)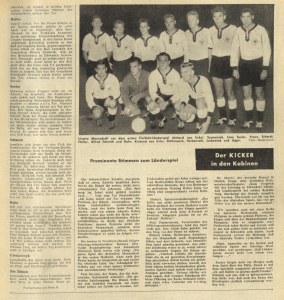 26.10.1958: France v Germany 2-2 (in Paris) (F)
Referee: Ellis (England), attendance: 60,000
German roster:
GK: Tilkowski, Sawitzki
DF: Stollenwerk, Erhardt, Bauer, Barwenczik
HB: Szymaniak, Alfred Schmidt, Rudolf Hoffmann, Kördel
FW: Rahn, Geiger, Seeler, Cieslarczyk, Haller
France: 1 Colonna (30. Abbes) – 2 Kaelbel, 5 Lafont, 3 Lerond – 4 Penverne, 6 Marcel – 8 Douis, 10 Piantoni (42. Cisowski) – 7 Deladèrriere, 9 Fontaine, 11 Vincent
Germany: 1 Tilkowski – 2 Stollenwerk, 5 Erhardt, 3 Bauer – 4 A.Schmidt, 6 Szymaniak – 8 Haller, 10 Geiger – 7 Rahn (c), 9 Seeler, 11 Cieslarczyk
Scorers: 0-1 Rahn (13.), 1-1 Deladèrriere (23.), 2-1 Douis (69., pen.), 2-2 Seeler (79.)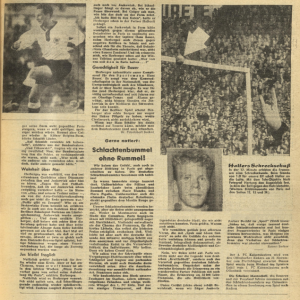 19.11.1958: Germany v Austria 2-2 (in Berlin) (F)
Referee: Fencl (Czechoslovakia), attendance: 85,000
German roster:
GK: Herkenrath, Tilkowski, Sawitzki
DF: Stollenwerk, Zastrau, Erhardt, Schnellinger
HB: Szymaniak, Eckel, Benthaus
FW: Alfred Schmidt, Rahn, Haller, Seeler, Geiger, Kapitulski, Faeder
Germany: 1 Tilkowski – 2 Stollenwerk, 5 Erhardt, 3 Schnellinger – 4 Eckel, 6 Szymaniak – 8 Haller, 10 A.Schmidt – 7 Rahn, 9 Seeler, 11 Kapitulski
Austria: 1 Engelmeier – 2 Oslansky, 5 Kollmann, 3 Hasenkopf – 4 Hanappi, 6 Koller – 8 Knoll, 10 E.Hof (71. Reiter) – 7 Horak, 9 Buzek, 11 Skerlan
Scorers: 1-0 Rahn (16.), 1-1 Horak (42.), 1-2 Knoll (61.), 2-2 Rahn (89.)
21.12.1958: Germany v Bulgaria 3-0 (in Augsburg) (F)
Referee: Seipelt (Austria), attendance: 60,000
German roster:
GK: Tilkowski, Sawitzki
DF: Erhardt, Stollenwerk, Schnellinger, Zastrau, Pyka
HB: Mai, Benthaus, Kördel
FW: Waldner, Haller, Seeler, Geiger, Rahn, Klöckner, Biesinger, Morlock
Germany: 1 Sawitzki – 2 Stollenwerk, 5 Erhardt, 3 Schnellinger – 4 Mai, 6 Benthaus – 8 Geiger, 10 Haller (46. Morlock) – 7 Waldner, 9 Seeler, 11 Rahn
Bulgaria: 1 Partchanov – 2 Rakarov, 5 Manalov, 3 J.Dimitrov – 4 Boskov, 6 Kovachev – 8 G.Dimitrov, 10 Kolev – 7 Diev, 9 Panayotov, 11 Janev (76. Debarski)
Scorers: 1-0 Seeler (44.), 2-0 Waldner (51.), 3-0 Seeler (74.)
28.12.1958: Egypt v Germany 2-1 (in Cairo) (F)
Referee: Lo Bello (Italy), attendance: 30,000
German roster:
GK: Tilkowski, Ewert
DF: Zastrau, Pyka, Schnellinger, Giesemann
HB: Mai, Benthaus, Kördel
FW: Rahn, Morlock, Biesinger, Haller, Klöckner, Ringel, Faeder
Egypt: 1 Abdel Gelil – 2 Jaken, 5 Alla, 3 El Dali – 4 Fanagili, 6 Kupf – 8 El Dizwi, 10 Hamdia – 7 Rafat, 9 Aleh Selim, 11 Zaid (46. Salem)
Germany: 1 Tilkowski – 2 Zastrau, 5 Pyka, 3 Schnellinger – 4 Mai (46. Kördel), 6 Benthaus – 8 Morlock, 10 Faeder – 7 Rahn, 9 Biesinger (62. Ringel), 11 Klöckner
Scorers: 1-0 Alla (26., pen.), 1-1 Morlock (36.), 2-1 Aleh Selim (50.)